Foothill Ranch, Calif. – U.S.A. – February 16, 2015 – Bal Seal Engineering, Inc. has expanded its line of seal materials to include SP191, a polyimide-filled polytetrafluoroethylene compound. The company says the properties of the new material make it ideal for use in gas compressors, oxygen intensifier systems, and other medical equipment requiring low friction sealing in humid environments and/or high temperatures.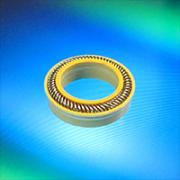 Tests conducted by an independent laboratory confirmed that SP191's average autogenous ignition temperature (AIT)—the temperature at which material will ignite spontaneously—was 479 ± 6 °C. The material performed far better than ultrahigh molecular weight polyethylene (UHMWPE), which exhibited an average AIT of only 198 ± 9 °C. Testing was performed to ASTM G72, "Standard Test Method for Autogenous Ignition Temperature of Liquids and Solids in a High-Pressure Oxygen-Enriched Environment."
Bal Seal Engineering, a global provider of custom-engineered sealing, connecting, conducting and EMI shielding solutions, says SP191 exhibits low friction and minimal wear. Compatible with most fluids and gases, the material is best suited for use in applications with service temperatures ranging from –400 to +550 °F (–240 to +287 °C).
Suitable for both rotary and reciprocating applications, SP191 operates well against soft mating surfaces such as aluminum, mild steel, brass, and plastics. The material's low friction coefficient eliminates application "stick-slip," the movement of two surfaces relative to each other characterized by a series of jerks resulting from alternate sticking (due to friction) and sliding (when the friction is overcome by an applied force).
The company says it added the new material to its offering in answer to a growing demand for low-friction sealing options that could withstand a broad temperature range in oxygen intensifier systems, where most organic liquids and solids will ignite in a pressurized oxidizing gas atmosphere if heated to a sufficiently high temperature and pressure.
"Medical OEMs are often at the forefront of technological advances," says Steve Twork, Global Medical Market Manager for Bal Seal Engineering, "and that has driven a need for similar progress in seal material development. We've formulated SP191 to provide sustained sealing in high temperature applications with low friction requirements, so that design engineers can achieve new levels of performance and efficiency without worrying about whether the seals in their equipment can keep up."
The company has published additional information about the new SP191 material in a technical data sheet, which is available in our online technical library.
About Bal Seal Engineering, Inc.
Bal Seal Engineering, Inc. is a leading global provider of custom-engineered sealing, connecting, conducting, and EMI/RFI shielding and grounding solutions. The company's products employ unique Bal Spring™ canted coil spring technology to promote enhanced equipment performance and reliability. For the latest news and information about Bal Seal, visit http://www.balseal.com/media, call 800.366.1006, or e-mail sales@balseal.com.