The spring-energized seal, a U-cup lip seal made from specially-formulated polymers and reinforced by an energizing component, can be a valuable tool in the engineer's problem-solving arsenal. While it may not be suitable for every application, the design has an impressive track record in environments considered too aggressive for other seal types. If getting more performance and reliability out of your designs is the challenge, a spring-energized seal could be the solution.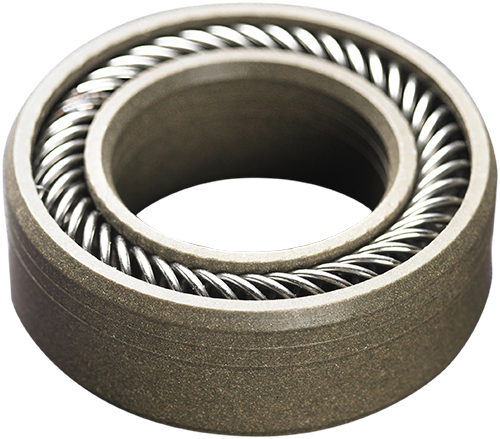 What does a spring-energized seal do?
Acts as a physical barrier to fluids and gases
Relies on interference between seal and hardware
Uses design, pressure, force to optimize contact
Leverages material science to resist media, wear
Spring-Energized Seal Advantages
The spring-energized seal is capable of providing longer service as compared with conventional (non-energized) polymer or elastomeric seals. This is because contact pressure at the sealing lip remains high throughout the life of the seal. Even as seal materials wear, the energizer compensates for angular misalignments across a wide working spring force deflection range to maintain constant and even force across the seal lip, maintaining sealing pressure. This inhibits the formation of leak paths, which results in fewer maintenance intervals and increased equipment uptime. In addition to promoting even wear and maintaining constant pressure throughout the life of the seal, the spring-energized seal also reduces media contamination by incorporating chemically compatible, wear-resistant materials. This reduces the possibility of premature degradation, and minimizes the potential for seal material "shedding."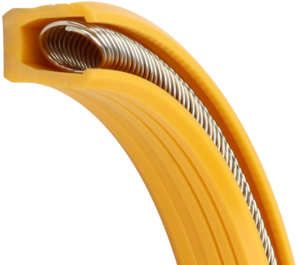 Spring-Energized Seal Design
A spring-energized seal typically consists of two basic components; the seal jacket and an energizer. The energizer is inserted into the jacket, along the cavity between the seal's static and dynamic lip.
Spring-Energized Seal Profile
Locking & Backup Rings
For applications requiring an added level of protection, an engineered metal locking ring can be integrated into the spring-energized seal design. The locking ring prevents rotation of the seal in the hardware, and it promotes consistent sealing contact under thermal cycling conditions. Backup rings made from PEEK and other materials can be designed to integrate with the seal jacket geometry, or they can be provided as separate parts.
How a Spring-Energized Seal Works
A spring-energized seal usually relies on interference for retention in the housing and to apply pressure at the sealing surface. During installation, the static seal lip is compressed into the housing bore, and the dynamic lip is stretched over the dynamic surface (piston). The compression load applied to the seal causes a reactive force generated by the compressed energizing spring. This precise interference between the sealing lip and sealing surfaces establishes a barrier that prevents the media from leaking past the seal. Effective sealing requires some contact stress between the seal lips and the hardware. This stress, and the resulting friction, can be controlled by adjusting the jacket geometry, material, and energizer force.
Seal interference: pre-installation vs. operation
Areas of contact stress in seal/hardware interface
Spring-Energized Seal Service Types
The spring-energized seal is commonly employed in both dynamic and static applications. More specifically, it can be designed to protect against leakage and damage in reciprocating, rotary, oscillating and static service. Although it is often used in a housing-mounted configuration, the seal can also be mounted on a piston or shaft.
Spring-Energized Seal Applications
A spring-energized seal is an ideal choice for operating environments with challenging pressures, temperatures, speeds, and aggressive media. It can outperform elastomeric seals and improve the performance and reliability of equipment used across a wide range of industries and applications, including:
Spring-Energized Seal Components
Seal Jacket Materials
A spring-energized seal jacket can be manufactured from almost any base material. But the unique physical properties and performance characteristics of these polymers make them ideal for sealing service: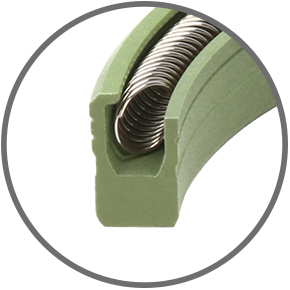 Polytetrafluoro- ethylene
(PTFE or Teflon®)
Polyether Ether Ketone (PEEK)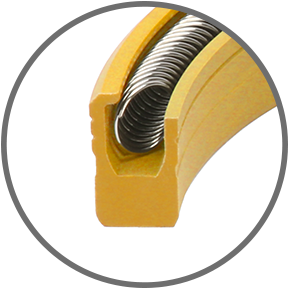 Ultra-High Molecular Weight Polyethylene (UHMWPE – PE)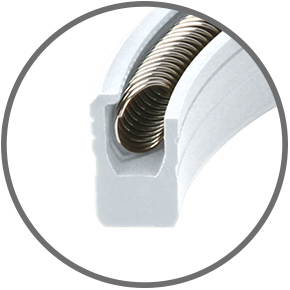 Specialty Polymers (FP, FEP, PI, PCTFE)
These materials can be used in their unfilled (virgin) form, or they can be filled with graphite, carbon, glass, molybdenum disulfide, and various other polymers  to enhance performance. They are sintered, and can be machined to very tight tolerances. Filled seal jacket materials significantly outperform virgin materials in harsh,  viscous, abrasive, and rigorous operating conditions, and typically deliver longer service life than virgin materials, depending on the type and percentage of filler used. Seal materials conform to hardware surface irregularities and prevent the formation of leak paths.
Click here to learn more about the polymers used to make the Bal Seal® spring-energized seal, and how these materials perform in specific temperatures, pressures, speeds, and media.
Seal Energizers
Choosing the right energizer—with the ideal combination of force, fit, and finish—is as critical to the success of a seal's design as the material itself. Popular energizer components for the spring-energized seal consist of:
Seal Energizer Materials
Media resistance, galvanic compatibility, and biocompatibility are key factors that impact the selection of seal energizer materials. Although it's not uncommon to find energizers made from elastomers and even polymers (such as PEEK), metals are often the more popular choice because they offer greater durability and design flexibility. Metal energizers can withstand higher operating temperatures, resist compression set, and allow for more precise control over a wider range of forces.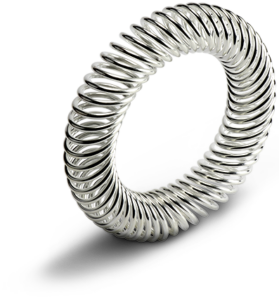 Metallic spring-energizer types are manufactured using a variety of materials, including:
Stainless steels (aerospace)
Elgiloy® (energy)
MP35N® (analytical sciences)
Spring-Energized Seal Experts
At Bal Seal Engineering, we've perfected the process of designing and manufacturing custom spring-energized seals. Our Bal Seal® products are machined from polytetrafluoroethylene (PTFE) and other premium polymers, and energized with precision-engineered Bal  Spring® canted coil springs. To learn more, choose your desired application below, or create your own Bal Seal model with our Seal Starter 3D tool.