With the Bal Spring® canted coil spring contact element, you can manage more power in less space at cooler running temperatures. Our spring's independent coils, which serve as multiple contact points for optimal conducting or grounding capability in static or dynamic electrical applications, ensure consistent, reliable connection—even under shock and vibration.  The Bal Spring effectively manages high, medium, and low current over long periods with minimal heat rise in a compact footprint, making it an ideal choice for designers who want to advance the performance of their equipment while reducing size, weight, and system complexity.
Electrical Spring Mounting Configurations
As a contact element, the Bal Spring® canted coil spring is typically used in either housing-mounted or piston-mounted configurations.  Designs can employ grooves that are rounded (like the one shown here),or with flat or "V"bottoms. We'll help you choose which groove design works best for your application.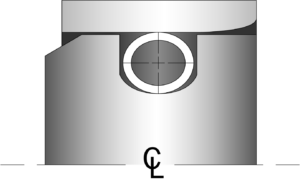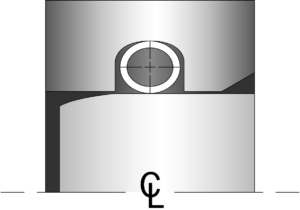 Electrical Spring Conductive Properties
Many design factors, including wire material, wire diameter, coil height, spring force, and plating thickness, contribute to the performance of our Bal Spring® canted coil spring.  We can precisely control each of these to engineer a spring that delivers the level of performance you need.  Here's a sampling of some common spring sizes and their basic electrical properties.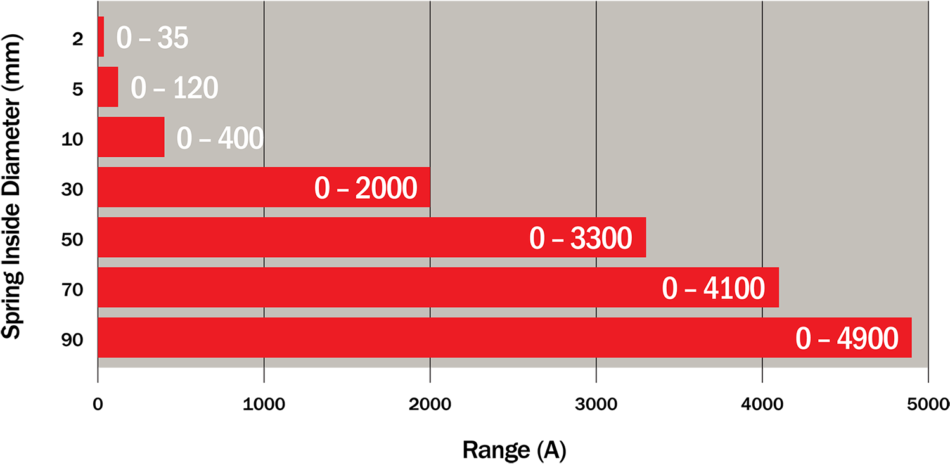 Continuous Current Range by Spring Size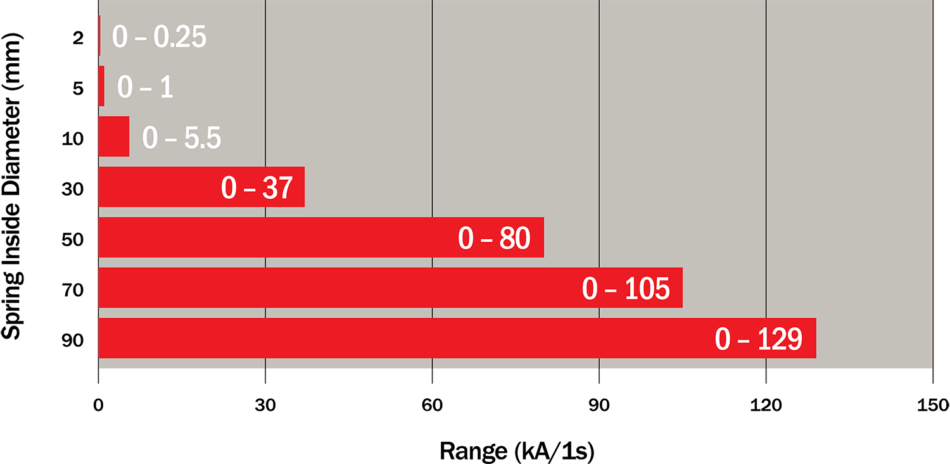 Short Circuit Current Range by Spring Size
This information is based on silver-plated copper alloy material at pre-defined conditions. We offer larger wire diameters with higher capacities than those shown here. *Continuous current range estimate is with H = 25W/m²K @ 40 °C with 65 °C allowable temperature rise.Values presented are calculated estimates. Actual values will vary depending on specific applications.
Electrical Spring Force
Unlike typical contact element technologies, our Bal Spring canted coil spring exerts a near-constant force across the working deflection range, and its forces remain consistent–even under extreme temperature variations. It resists compression set, and its individual coils compensate for misalignment, tolerance variations, and mating surface irregularities. For applications requiring both electrical conducting and mechanical connecting, we can adjust spring groove, spring size, wire diameter and other characteristics to precisely control the force it takes to latch, lock, hold, connect, and disconnect.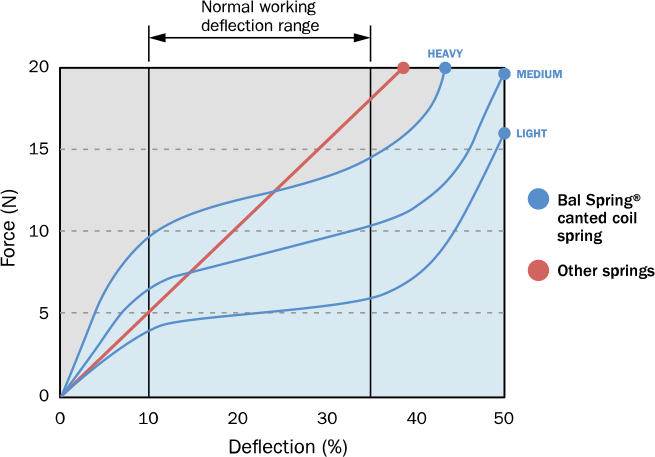 Electrical Spring Materials & Plating
Bal Spring® canted coil spring contact elements are precision-manufactured from premium copper alloy and stainless steel base wire materials, chosen for their excellent combination of mechanical and electrical properties. Our copper alloys are conductive enough to be used unplated in many applications. The performance of our stainless steel materials, which offer a higher force-per-unit compression value than copper in the same spring dimension, can be enhanced by plating with a more conductive metal.
Bal Spring wire materials include:
STAINLESS STEEL (302, 316, 316L)
BERYLLIUM-COPPER
ZIRCONIUM-COPPER
Plating can make the Bal Spring more efficient in humid or corrosive environments, or in any application that calls for higher conductivity. We can supply springs plated to MIL standards or other specifications. While silver is usually the first choice for high conductivity requirements, it's also important to consider corrosion and potential wear characteristics. We apply protective coatings to our silver-plated Bal Spring contact elements for an added level of corrosion resistance.
 Electrical Spring Sizes
Our Bal Spring canted coil springs are available in non-welded lengths of various sizes (for simple or complex groove configurations), and welded rings from 0.020" (.51 mm) ID. Since every spring is designed to meet the unique requirements of your application, we don't stock a "standard" size and type. But we do maintain a database of commonly-requested diameters and cross-sections, which can serve as a baseline for streamlined customization.

This chart is provided solely as an illustration of common spring dimensions. Spring properties, including wire diameter, wire material, coil width, coil height, coil cant angle, spring ID/OD, and plating can be precisely customized for optimal performance.
Electrical Spring Orientation
Our Bal Spring® canted coil spring can be designed with coils that deflect in an axial or radial orientation.  This makes it possible to optimize the direction of the force in your design, ensuring effective, long-term service. For housing or piston mounted designs, a radial spring orientation is typically recommended. Axial springs are often specified for face mounted installations.
Radial Spring
Compression force of a radial canted coil spring is along the radius of the arc or ring, perpendicular to the centerline.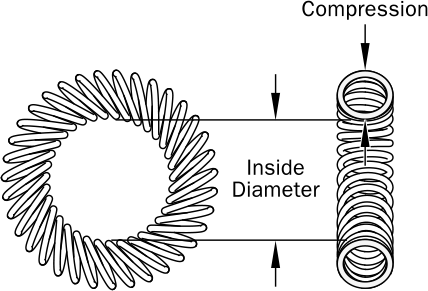 Axial Spring
Compression force of an axial canted coil spring is along the axis of the arc or ring, parallel to the centerline.

Service conditions, spring configuration (length or ring), and other factors can influence this design choice. Our engineers will help you to determine which spring orientation delivers the best performance.
One Component, Three Functions
Some designers use the Bal Spring® canted coil spring to mechanically latch, lock, or hold critical machine components. Some use it to shield against EMI/RFI. Others leverage our spring's ability to electrically conduct and ground. However you choose to use it, you'll increase performance, improve reliability, and gain a competitive edge.
Electrical Spring Applications