Our versatile Bal Spring® canted coil spring is a proven solution for mechanical connecting challenges. Its size, simplicity, and multi-function capabilities can help you reduce system complexity and weight while improving performance. The Bal Spring performs latching, locking, and holding functions, it allows for tool-less installation, and it's robust enough to withstand thousands of insertion/removal cycles.
Latching
Fastening two device parts together while facilitating removal and replacement over many cycles

Locking
Permanently mating two device parts together, making removal impossible without damage to the part or spring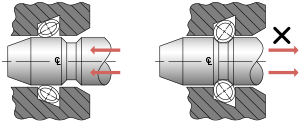 Holding
Retaining and aligning device parts and facilitating sliding function through the use of controlled spring force

Locking & Quick-Release
Locking device parts together, with the option to advance and bypass lock for easy, low-force release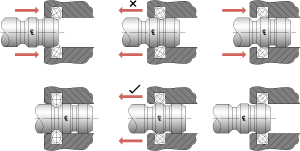 Mechanical Spring Force
The Bal Spring® canted coil spring exhibits a unique deflection and force behavior when it's compressed. Unlike typical spring technologies, our spring exerts a near-constant force across the working deflection range, and its forces remain consistent – even in wide temperature ranges. It resists compression set, and its individual coils compensate for misalignment, tolerance variations, and mating surface irregularities. By adjusting the spring groove, spring size, wire diameter and other characteristics, we can precisely control the force it takes to latch, lock, hold, connect, and disconnect. Spring forces can be precisely controlled from less than .5 lb. to >10,000 lb.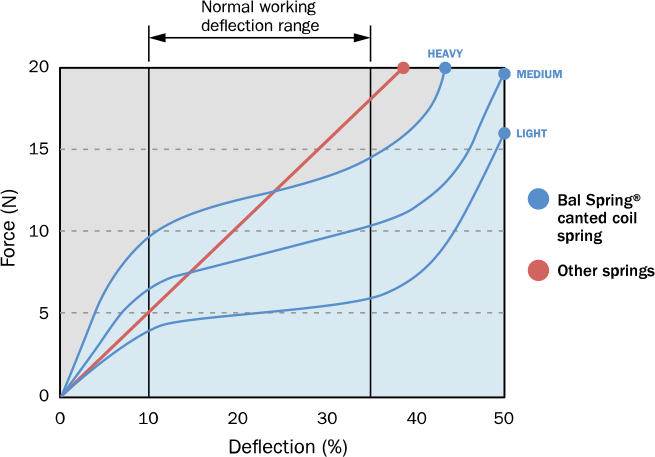 Mechanical Spring Materials & Plating
Our Bal Spring® canted coil spring is available in a variety of wire materials and surface finishes to meet specific performance demands. To reduce the potential for corrosion between dissimilar metals, we can plate springs with a galvanically compatible material.
Wire Materials Include:
STAINLESS STEEL (302, 316, 316L)
MP35N®
PLATINUM IRIDIUM
TITANIUM
HASTELLOY®
INCONEL®
BERYLLIUM-COPPER
ZIRCONIUM-COPPER
Mechanical Spring Sizes
Our Bal Spring® canted coil springs are available in a range of non-welded lengths (for simple or complex groove configurations), and in welded rings from 0.020 in. (.51 mm) ID. Since every spring is designed to meet the unique requirements of your application, we don't stock a "standard" size and type. But we do maintain a database of commonly-requested diameters and cross-sections, which can serve as a baseline for streamlined customization.

This chart is provided solely as an illustration of common spring dimensions. Spring properties, including wire diameter, wire material, coil width, coil height, coil cant angle, spring ID/OD, and plating can be precisely customized for optimal performance.
Mechanical Spring Orientation
Our Bal Spring canted coil spring can be designed with coils that deflect in an axial or radial orientation. This makes it possible to optimize the direction of the force in your design, ensuring effective, long-term service. For housing or piston mounted designs, a radial spring orientation is typically recommended. Axial springs are often specified for face mounted installations.
Radial Spring
Compression force for a radial canted coil spring is along the radius of the arc or ring, perpendicular to the centerline.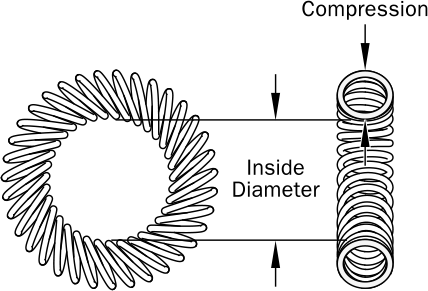 Axial Spring
Compression force for an axial canted coil spring is along the axis of the arc or ring, parallel to the centerline.

Service conditions, spring configuration (length or ring), and other factors can influence this design choice. Our engineers will help you to determine which spring orientation delivers the best performance.
One Component, Three Functions
Some designers use the Bal Spring® canted coil spring to mechanically latch, lock, or hold critical machine components. Some use it to shield against EMI/RFI. Others leverage our spring's ability to electrically conduct and ground. No matter how you choose to use it, you'll increase performance, improve reliability, and gain a competitive edge.
Mechanical Spring Applications