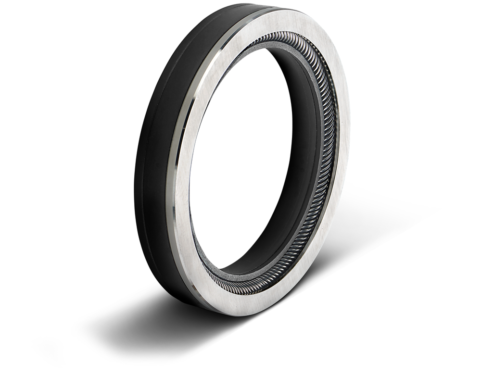 Engineered primarily for rotary service in oil and gas applications (with designs available for other service types), our Bal Seal® spring-energized LKS seal features an all-in-one design that delivers up to 150% more service life than similar seals. It offers exceptional protection against leakage in demanding conditions, and it replaces costly sealing assemblies. It's an ideal solution for designers seeking to develop next-generation equipment, boost protection against warranty claims, and reduce environmental risk.
LKS Seal Production
Our LKS seal proves there's strength in numbers. It leverages the best physical properties of two premium polymers, innovative jacket geometry, plus a spring energizer and a locking ring, to create a whole new class of sealing.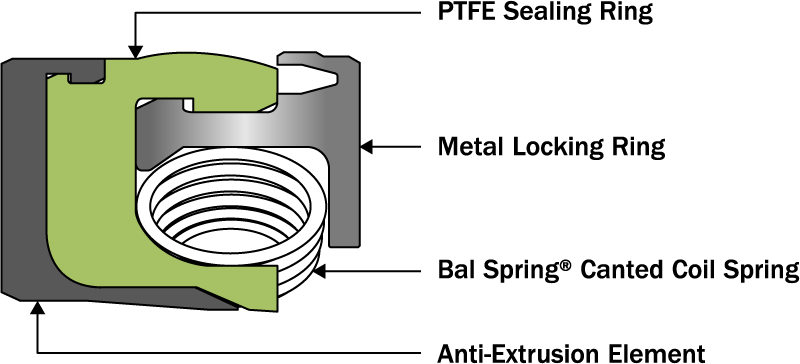 Designs are provided as examples only. By precisely adjusting lip and heel geometries, energizer forces, and material formulations, we'll create a solution that meets your unique sealing requirements.
Under higher pressures and speeds, the backup element and locking ring guard against extrusion of the seal material by supporting it in hardware with little or no clearance between the seal and rotating shaft. The LKS seal's unique geometry forces the wear of the jacket material to occur at the lip contact area, not the hinge point. The LKS seal's jacket material consists of our GFP-55 material, a graphite-fiber reinforced polytetrafluoroethylene (PTFE). The metal locking ring is made from stainless steel, and the Bal Spring canted coil spring energizer is a corrosion-resistant Hastelloy®. The seal's integrated backup element is machined from our P-69D, a polyetheretherketone (PEEK) material that's formulated to resist extrusion at high temperatures.
Graphite-Reinforced PTFE Sealing Ring
Retains ability to seal in high-temperature, high pressure, high speed service conditions, provides high level of extrusion resistance, long-wearing properties and built-in lubricity
Metal Locking Ring
Protects against seal failure due to thermal cycling, reduces OD shrinkage at low temperatures, Prevents the seal from becoming dynamic
Bal Spring® Canted Coil Spring
Exerts uniform sealing force against the shaft, lowers frictional contact at the lip area(reducing heat build-up and extending seal life), provides excellent corrosion resistance/chemical compatibility
High-Performance PEEK Anti-Extrusion Element
Minimizes seal jacket extrusion, promotes longer sealing life, forces wear to occur at lip contact area, not hinge point, extends seal performance range at low and high temperature
LKS Seal Energizers
At the heart of almost every LKS seal is an energizer that's precision-engineered to promote even wear and longer seal service life. Choosing the right energizer – with the ideal combination of force, fit, and finish – is as critical to the success of your design.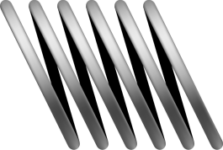 Bal Spring
Canted Coil Spring Energizer
Friction: Low
Sealing Force: Low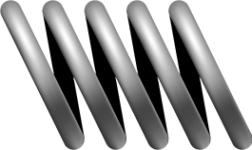 Bal Spring
Canted Coil Spring Energizer
Friction: Moderate
Sealing Force: Moderate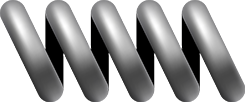 Bal Spring
Canted Coil Spring Energizer
Friction: High
Sealing Force: High
Bal Spring Energizer Force
The Bal Spring canted coil spring exhibits a unique deflection and force behavior when it's compressed. Unlike typical spring technologies, our spring exerts a near-constant force across the working deflection range, and its forces remain consistent – even in wide temperature ranges. It resists compression set, and its individual coils compensate for misalignment, tolerance variations, and surface irregularities.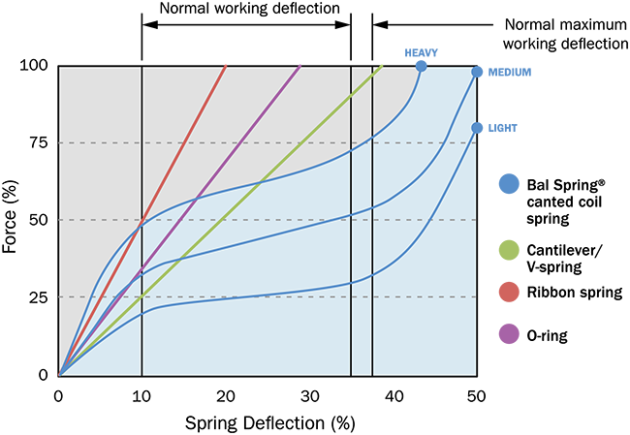 LKS Seal Sizes
We produce our LKS seals in sizes ranging from 0.187 in. (4.75 mm) to 18 in. (45.72 cm) inside diameter.

LKS Seal Service Conditions
Temperature, pressure, speed, and media. These are just a few of the major factors you'll need to consider when choosing an LKS seal. Here's a look at how our Bal Seal® spring-energized LKS seal performs under a variety of conditions.
Pressure Resistance
(thousand pounds per square inch)

Temperature Resistance
(° fahrenheit)

Surface Speed
(feet per minute)

Frictional Values
(coefficient of friction)