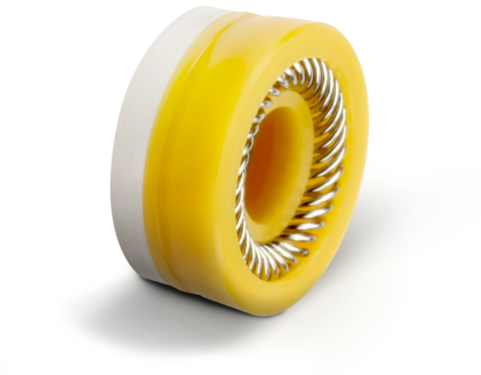 Designed for reciprocating service (with designs available for static applications), the custom-engineered Enduris high-pressure sealing system is the first of its kind to deliver consistent protection against leakage at pressures of >22,000 PSI over millions of cycles. When paired with optimal hardware designs, the Enduris system can help you break performance barriers, set new standards, and achieve a competitive edge.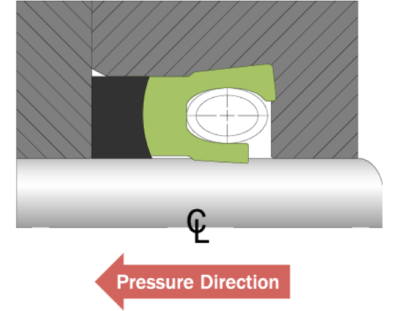 The Enduris system combines advanced polymer seal formulations, proven Bal Spring® canted coil spring technology, and a precision-engineered nickel alloy backup element (ceramic designs are also available). The backup supports the seal and prevents extrusion along the inner and outer groove diameters. It also aligns and centers the seal, ensuring more balanced loading along the seal lips.
Designs are provided as examples only. By precisely adjusting lip and heel geometries, energizer forces, and material formulations, we'll create a solution that meets your unique sealing requirements.
Enduris Seal Material
The Enduris system's spring-energized seal lets you closely control frictional forces and optimize sealing effectiveness in a broad range of chemicals, temperatures, and pressures. The seal's base jacket material consists of our UP-30, an ultra-high molecular weight polyethylene (UHMWPE) combined with advanced filler materials to enhance performance properties.
Enduris Seal Energizers
At the heart of almost every Enduris seal is an energizer that's precision-engineered to promote even wear and longer seal service life. Choosing the right energizer – with the ideal combination of force, fit, and finish – is as critical to the success of your design as the seal material itself.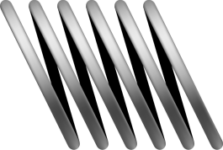 Bal Spring
Canted Coil Spring Energizer
Friction: Low
Sealing Force: Low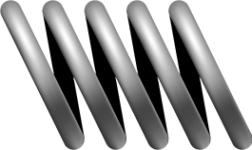 Bal Spring
Canted Coil Spring Energizer
Friction: Moderate
Sealing Force: Moderate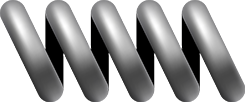 Bal Spring
Canted Coil Spring Energizer
Friction: High
Sealing Force: High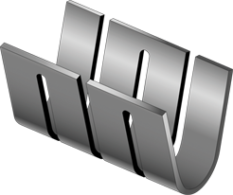 Bal Spring
Cantilever Spring Energizer
Friction: High
Sealing Force: High
Spring Energizer Force
The Bal Spring canted coil spring exhibits a unique deflection and force behavior when it's compressed. Unlike typical spring technologies, our spring exerts a near-constant force across the working deflection range, and its forces remain consistent – even in wide temperature ranges. It resists compression set, and its individual coils compensate for misalignment, tolerance variations, and surface irregularities.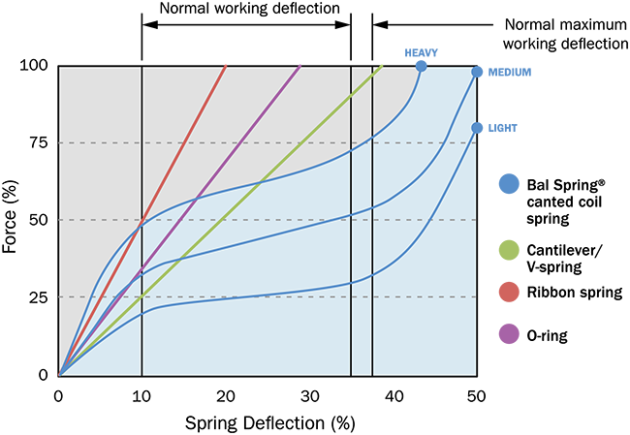 A variety of spring energizer materials are available to meet chemical, temperature, and galvanic compatibility requirements
STAINLESS STEEL (302, 316, 316L)  |  MP35N®  |  TITANIUM | HASTELLOY®
For applications requiring biocompatible/bioinert components, we offer spring passivation.
Enduris Seal Sizes
We produce our Enduris seals in sizes ranging from 0.079 in. (2 mm) to 18 in. (45.72 cm) inside diameter.

Enduris Seal Service Conditions
Although the Enduris system is engineered to perform under pressure, we know that temperature, pressure, speed, and media compatibility can also have a huge impact on the success of your design. Our nearly limitless combination of materials, energizers, and geometries–coupled with our consultative engineering approach–will help you address all of them, and create a solution that sets you apart. Here's a look at how our Enduris high-pressure sealing system performs under a variety of conditions.
Pressure Resistance
(thousand pounds per square inch)


Temperature Resistance
(° fahrenheit)

Surface Speed
(feet per minute)

Frictional Values
(at ambient temperature)

Enduris Seal Applications