feel free to call us +91.33.26789234 youremail@yourdomain.com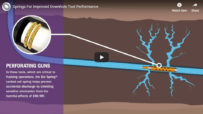 Springs For Improved Downhole Tool Performance
The Bal Spring® canted coil spring ensures consistent, reliable current/signal flow in downhole tools.
Related Articles
Bal Spring, Industries, Shielding

Bal Spring® canted coil springs provide superior performance where shielding from EMI and RFI is vital to preventing damage...

Bal Contact, Conducting, Medical

Designing cardiac rhythm management and ventricular assist devices that reliably deliver lifesaving therapy is a tough job. But choosing...