Foothill Ranch, Calif. – U.S.A. – March 3, 2017 – Bal Seal Engineering, Inc. has announced the appointment of Jan Soede to the position of General Manager, EMEA. In his new role, Soede will be responsible for the oversight of the company's financial operations and strategic sales activities for Europe, the Middle East and Africa. He will work from the company's European headquarters in Amsterdam, The Netherlands.
Soede, who holds a Masters of Science in Aerospace Engineering from the Delft University of Technology, previously served as deputy vice president of marketing for a Swiss German global access and security company. Prior to this, he worked as managing director for a European manufacturer of data and energy transmission systems, and as sales director for a global distributor of aerospace and defense components.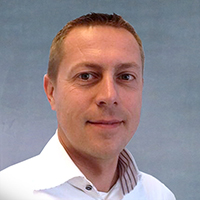 As Bal Seal Engineering's new General Manager EMEA, Soede will play a key role in supporting sales of the company's custom-engineered seals, springs and electrical contacts to existing and new customers in the region. He will also lead efforts to identify new applications, markets and segments in which the company's Bal Spring® canted coil spring and Bal Seal® spring-energized sealing technology can help engineers improve equipment performance and reliability.
"We have a reputation for creating solutions that help advance technology and give customers a competitive edge in mission critical systems," Soede says. "And while this is well-known in the U.S., I think we are more of a behind-the-scenes champion in Europe. It will be my goal to ensure that our value is more widely communicated and understood in Europe and beyond." 
Commenting on Soede's appointment, Bal Seal Engineering Vice President of Global Sales & Marketing Gary Stoffer says he is "thrilled" to have the new general manager on board.
"I'm confident that Jan's technical background and rich industry experience will fuel our company's growth in the European region," Stoffer says. "Given his engineering study and practice, he knows the challenges designers face, because he has lived them first-hand. And he knows how our products can be applied to solve them."
About Bal Seal Engineering, Inc.
Bal Seal Engineering, Inc. is a leading global provider of custom-engineered sealing, connecting, conducting, and EMI/RFI shielding and grounding solutions. The company's products employ unique Bal Spring® canted coil spring technology to promote enhanced equipment performance and reliability. For the latest news and information about Bal Seal Engineering, visit http://www.balseal.com/media, call 800.366.1006, or e-mail sales@balseal.com.