Stuttgart, Germany – August 20, 2013 – Bal Seal Engineering, Inc. announced the opening of its new sales office in Stuttgart, home to many prestigious and innovative German companies. Located in the Stuttgart Engineering Technology Park near Stuttgart University, the office opened its doors on August 15, 2013 with the purpose of providing local support to the region.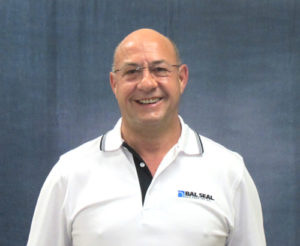 "Germany is a strong economic driver in Europe and a very important market for Bal Seal Engineering," says Wayne Young, the company's sales director for Europe, adding that medical, automotive, and energy are among the key market segments for Bal Seal in Germany. "Opening a Bal Seal office in this region is part of our expansion strategy. It supports our continued growth and confirms our commitment to the German market and our German customers," says Young.
Wolfgang Wimmer (left), Bal Seal's new territory sales manager for Germany, will be based in the Stuttgart office. "Wimmer brings a wealth of experience in sales and marketing to the position as well as a strong background in custom-designed engineered products," says Young. "His experience in custom-designed machinery sales for textile applications required a consultative approach, which is a perfect match with the Bal Seal sales model."
Young notes that Bal Seal has already achieved significant sales growth in Europe, and that the opening of this office supports the company's growing customer base. In 2012, the company opened a sales office in Prague, Czech Republic. Both of these offices will work closely with the company's European headquarters, which is located in Amsterdam, The Netherlands.
About Bal Seal Engineering, Inc.
Bal Seal Engineering, Inc. is a global provider of custom-engineered sealing, connecting, conducting and EMI shielding solutions for industry worldwide. The company's products employ unique Bal Seal Canted Coil Spring® technology for enhanced equipment performance and reliability. For information about Bal Seal products and services, visit www.balseal.com, e-mail sales@balseal.com, or call +49 711 67 400 175.