Foothill Ranch, Calif. – U.S.A. – August 23, 2014 – Bal Seal Engineering, Inc. has expanded its line of spring-energized seals to include large diameters – up to 120 in. ID – for slow-speed rotary and reciprocating oilfield applications.
Bal Seal, a global provider of custom-engineered sealing, connecting, conducting and EMI shielding solutions, says the one-piece, large diameter seals offer equipment designers and end users excellent resistance to wear, extrusion and chemicals. The seals are energized with a Bal Seal Canted Coil Spring®, which promotes even wear and prolongs service life.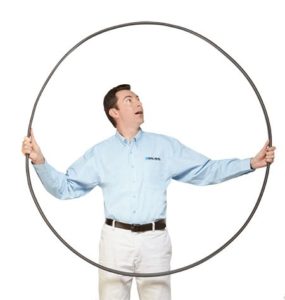 The low-friction, large diameter seals are available in a variety of materials, including polymer-filled PTFE, graphite/glass-filled PTFE and glass-fiber-reinforced PTFE with lubricant, all with an operating range of –450° to +500 °F. Graphite-filled PTFE is available with an operating range of –450°  to +475 °F. The PTFE-based seals are available in sizes up to 120 in. ID; thermoplastics, which can be incorporated into backup designs, are available in sizes up to 94 in. ID.
The company says it added the large diameters to its offering in answer to a growing demand for high-performance sealing options in offshore mooring systems, rotary steerables, swivel stacks and other equipment, where the integrity of the fluid path is constantly threatened by some of the world's most unforgiving conditions.
"For decades, we've been working with oilfield OEMs and using our unique sealing technology to help them achieve higher levels of performance and efficiency in pumps, tools and other applications," says Bal Seal Global Energy Market Manager Jim Harty. "We're extending that experience, as well as our proven technology, to areas that are positioned for significant growth."
Bal Seal will feature its large diameter seals in its booth (#J1046) at the ONS 2014 show, which runs August 25–28, 2014 in Stavanger, Norway. The show is expected to draw more than 59,000 attendees.